Welcome to our Food Series
In the post-WWII era, power flowed from control of the reserve currency backed by oil. In the emerging multipolar world, as new technologies revolutionize our energy models, power increasingly flows from ownership and access to water, soil, and food.
Convinced that accessing the best quality fresh food is essential to both personal and geopolitical power, we launched the Solari Food Series. We hope you enjoy accessing the outstanding insights on the global food ecosystem and how to enjoy food to nurture your health and political and economic freedom.
Pete Kennedy, Esq. became the host of the Solari Food Series in the Spring of 2020. Harry Blazer was the host from 2016-2018.
The mission of the Farm-to-Consumer Legal Defense Fund (FTCLDF) is to protect the rights of farmers and consumers to engage in direct commerce—something that is more important than ever given the recent Covid-related upheaval with our food supply and the accelerating deterioration of quality in the conventional food system.
FTCLDF levels the playing field, making it more difficult for government agencies to deplete the resources of small family farms through enforcement actions.
FTCLDF is a true grassroots organization that has never taken a dime from the government. It relies mainly on membership fees and donations from individuals for its revenues.
The day-to-day work of FTCLDF is aimed at creating as favorable a regulatory climate as possible for small farmers and local artisan food producers. The long-term goal of the Farm-to-Consumer Legal Defense Fund has been to establish the rights of all individuals to obtain the food of their choice from the source of their choice regardless of whether that source is licensed or regulated by the government. The best way to achieve that goal has been by making progress at the state level. A key part of that strategy has been to find a skilled litigator in each state who is not afraid to take on difficult cases and stand up to regulators.
No one better fits that description than Wisconsin attorney Elizabeth Rich. For the past 11 years, Elizabeth has worked for FTCLDF as both a staff attorney and local counsel. She has successfully worked both in and outside the courtroom to help extricate farmers from what often looked to be hopeless situations, improving their ability to make a living and, sometimes, ensuring their ability to make a living at all. In this interview, Elizabeth talks about memorable cases she has worked on and the importance of FTCLDF in protecting access to foods of our choice.
Those interested in supporting FTCLDF may donate online at www.farmtoconsumer.org or call 703-208-3276.
An excerpt: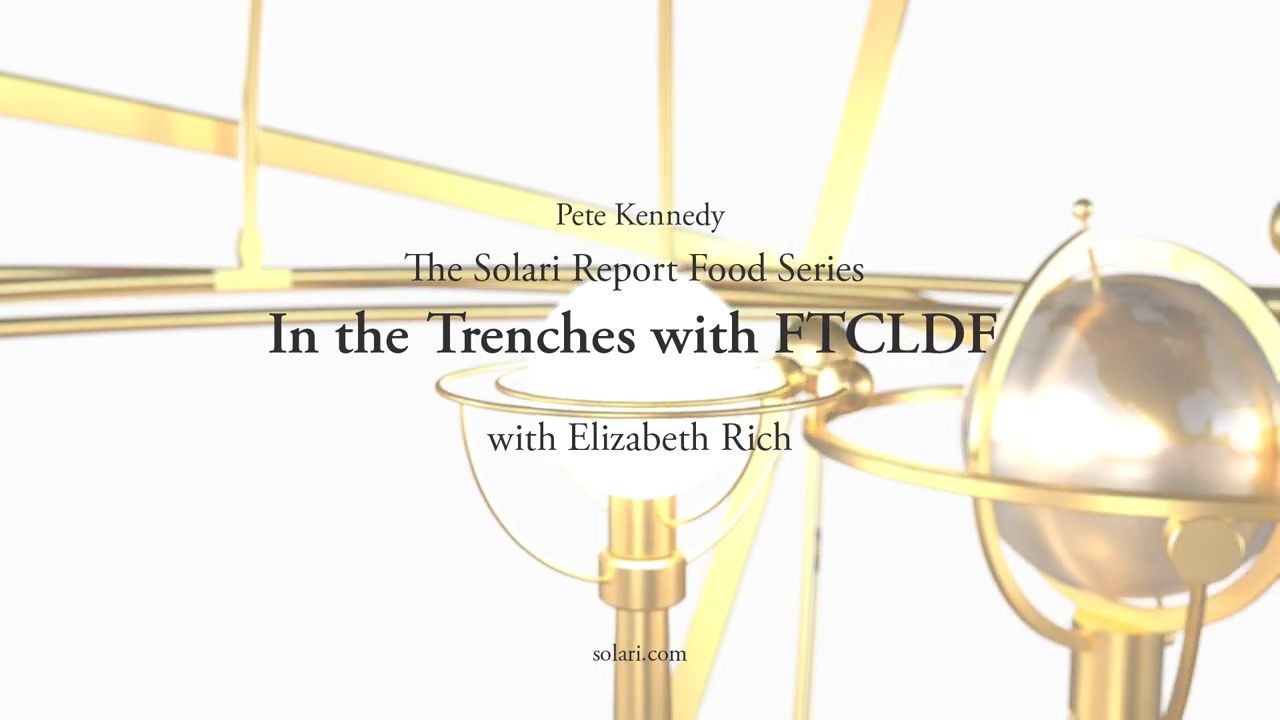 Click image to play video
Officially, Congressman Tom Massie represents Kentucky's fourth district; unofficially, he is the Congressman for the local food movement in this country. The biggest weakness by far in local food systems around the U.S. is the lack of slaughterhouses to handle the demand for locally produced meat. Representative Massie is addressing that problem by being the lead sponsor of the Processing Revival and Intrastate Meat Exemption Act, also known as the PRIME Act (H.R. 2859 / S.1620).
We now have a broken system where four meat packers control over 80% of the beef production in this country and four meat packers control 2/3 of the pork production.
Under current law, meat can only be sold if a state or federal inspector was present when the animal the meat came from was slaughtered and processed. Animals can be slaughtered and processed at custom facilities (referred to by Massie as "local processors" during the podcast) without an inspector being present, but the meat from those animals can only go to the owner(s) of the animals at the time of slaughter. Custom facilities are less expensive to build and operate than federal and state inspected slaughterhouses and also have a great track record for food safety. The PRIME Act would give States the option of passing laws allowing for the sale of custom slaughtered and processed meat in intrastate commerce, providing at least some relief from the current slaughterhouse shortage.
The logjam at slaughterhouses for small livestock farmers has gotten much worse since the onset of Covid-19. Skyrocketing demand by consumers purchasing direct from the farm has led to meat producers having to book out as far as 2022 to get their animals processed. Many livestock farmers face the prospect of going out of business unless there is an increase now in the number of available slaughterhouses to meet the growing demand for meat direct from the farm.
Those states that have laws favorable to the local food system generally have a champion in the legislature protecting and expanding the rights of small farmers, local artisans, and their patrons. In Tennessee that individual has been state senator Frank Niceley, a fifth generation cattle farmer, who is largely responsible for creating one of the more favorable regulatory climates in the country for the family farm. If a Tennessee farmer is having a problem with an inspector, Frank is often one of the first calls the farmer makes.
With his command of the issues, knowledge of history, and his ability to form successful strategies for changing the law, Niceley has removed one regulatory roadblock after another confronting small farmers in Tennessee. In this podcast, Niceley discusses his role in the development of the PRIME Act, why big Ag and little Ag can coexist, his legislative victories, and how to effectively convince legislators to support your cause.
An excerpt: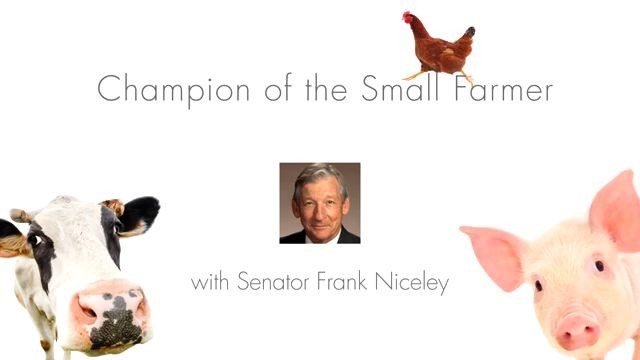 Click image to play video
There are two food systems: industrial and local. The stronger the local food system is, the better off individual health, food safety, food security, and the rural economy all are. The regulatory climate is the biggest reason there is not a more prosperous local food system; there are too many one-size-fits-all laws where small farmers and local artisans can't afford the cost of compliance. The best way to strengthen the local food system is by deregulating local food commerce, especially by allowing for unregulated transactions.
The best place to accomplish that goal has been in the state legislatures.
In Utah, the mother-daughter team of Symbria and Sara Patterson have led a revolution over the past five years in working to pass numerous food and agricultural laws, helping to establish a much more favorable climate for local food producers to operate in. The Pattersons explain how they have navigated opposition from agribusiness and state regulators to achieve their success.
An excerpt:

This week on The Solari Report we publish our next episode of the Food Series, in which Harry Blazer interviews Bill Niman in the third part of a fascinating three-part series with two of the most knowledgeable leaders in fresh food markets in America today. The first two parts of this series were Hog Heaven and the Godfather of Grass-Fed. As millions of people in the United States and Canada this week sit down to enjoy Thanksgiving dinner, it is appropriate that this episode will cover poultry.
An excerpt:

There is no aspect of food left unexplored by Harry Blazer. So it was only a matter of time until he pulled an outstanding dentist into his orbit for a new episode of the Food Series.
This coming week on the Solari Report, Dr. Andrew Killgore will join Harry for a discussion of dental health. This fascinating discussion will inspire you to improve your dental health and enjoy a stronger relationship with your dentist.
An excerpt:

This week on The Solari Report, Harry Blazer interviews Ronnie Cummins, co-founder and International Director of the Organic Consumers Association (OCA) and its Mexican affiliate Via Organica.
The OCA is a non-profit, U.S.-based network of 2 million consumers, dedicated to safeguarding organic standards and promoting a healthy, just, and sustainable system of agriculture and commerce.
An excerpt:

This week on The Solari Report, Harry Blazer continues a conversation with Bill Niman that they began earlier this year, with Bill being Bill Niman – Godfather of Grassfed. This week their focus is on hogs and Bill's success at raising some of the finest pork in the world. No one knows more about raising the noble pig than Bill and his team. Indeed, Bill's wife Nicolette is author of Righteous Porkchop: Finding a Life and Good Food Beyond Factory Farms.
An excerpt:

This Thursday, Harry Blazer interviews an outstanding leader in the world of fresh food, intelligent agriculture and a human future, Dr. Miguel Atieri.
Dr. Altieri is a professor in the Department of Environmental Science, Policy and Management at University of California, Berkeley. He has extensive knowledge and experience working with farmers and students throughout North and South America.
An excerpt:

This week on The Solari Report, Harry Blazer interviews the legendary Bill Niman, owners and operator of Bill and Nicolette Niman's Farm in Bolinas, California.
Bill was the founder of a number of companies involved in the production and processing of pasture-raised meat products, two of which continue to operate today – Niman Ranch and BN Ranch. Bill has set the standard for good husbandry practices and quality of finished product in the pasture-raised domain. The pork, beef and turkey products that continue to bear his name have become the preferred fare of some of the best chefs and connoisseurs in the United States. The proof is in the pudding – I have been eating Bill's meats since 2005 and sending them as special gifts to friends and family.
An excerpt:

This week in the next segment for the Food Series on The Solari Report, Harry Blazer will speak to Dr. Don Huber, a retired colonel of US military intelligence, a professor and a scientist.
An excerpt:

Harry Blazer had the opportunity to interview Sally Fallon Morell, Co-founder and President of the Weston A Price Foundation, at the annual conference in Minneapolis in November.
An excerpt:

Christopher Mann is a man for all seasons.
Born in London to parents who were anthroposophists – followers of Rudolf Steiner's philosophy – Chris studied and worked in England and Switzerland. In 1980, he and his Swiss wife Martina moved to the United States. They bought farmland in East Troy, Wisconsin and created the Michael Fields Agricultural Institute to promote research and education to support biodynamic farming in the United States.
An excerpt:

This week on The Solari Report, Harry Blazer joins me to discuss the most significant acquisition of 2017 to date – Amazon's purchase of Whole Foods for $13.7 billion.
An excerpt:

This week on the Solari Report, Harry Blazer is speaking with Anais Dervaes of Urban Homestead as the Dervaes family announces the launch of its new podcast series on June 13th.
An excerpt:

Christmas is my favorite time of year.
This past year was so worrisome serious that I wanted to celebrate the holiday season with something joyful and delicious. So I invited Harry Blazer to regale us with stories of his favorite holiday food traditions. I can't tell you which ones Harry has chosen for this coming Thursday night – he insisted that it be a surprise! I will share mine too.
An excerpt:

This week on the Solari Report we publish our next addition to the Food Series with Harry Blazer – a four part interview with Francois Vecchio
Francois has more than 60 years of experience in the meat industry – specializing in French, German, Italian and Spanish traditional meat craftsmanship.
An excerpt:

This week, Harry Blazer interviews David Andrews, the executive director of the Michael Fields Institute in East Troy, Wisconsin.
Michael Fields was founded by my good friends Christopher and Martina Mann to promote biodynamic agriculture in the United States through education and research. Biodynamic agriculture is an approach first developed in central Europe in the early 20th century as a result of Rudolf Steiner's Agriculture Course.
An excerpt:

Harry Blazer returns this week with two great interviews from the Michael Fields Agriculture Institute and their biodynamic networks in East Troy Wisconsin. The first — The Future of Biodynamic and Organic Farming — is a fascinating discussion with Institute executive director David Andrews.
His second interview is with biodynamic soil expert Angela L Curtes, the past acting executive director of Yggdrasil Land Foundation, who currently owns and runs Grounded LLC , a compost and land preservation business. Angela serves as visiting farm staff at Michael Fields. The discussion with Angela is Part II of "Vital Soils – The Foundation of Life".
An excerpt:

This week Harry Blazer returns with his interview of Will Allen, CEO of Growing Power, in Milwaukee.
When you listen to Will Allen, you will hear a man modest in his presentation. But make no mistake — what he is attempting is essential – to make entrepreneurial urban farming work.
An excerpt:

Harry Blazer continues the Solari Report Food Series this week with "Vital Soils – the Foundation of Life," a fascinating interview with Rick Freeman of Grow Ecology about the soil that gives us life. This is the first part of a two-part interview on soil.
An excerpt:

In the post WWII era, power flowed from control of the reserve currency backed by oil. In the emerging multipolar world, as new technologies revolutionize our energy models, power increasingly flows from ownership and access to water, soil and food.
This Thursday, I will be joined by Harry Blazer to launch our new series on food. Harry is my "go to" person on food. In my opinion there is no one who knows more about the subject.
An excerpt: